A mile for a meal -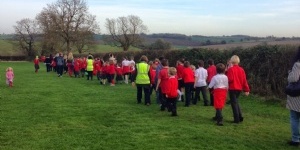 Our children walked a mile to provide the 50p needed to supply a child in Haiti with a meal.
After a recent visit from a memember of the Andrew Grene Foundation, we decide to raise some money to go to provide hot dinners for the children in Haiti. The Mile for a Meal is aimed at getting children to walk a mile for the donation of 50p, the equivalent cost of a meal for a student at the Andrew Grene High School in Haiti.
The Andrew Grene Foundation (AGF) is a charity dedicated to supporting the people of Haiti through education, loans and building projects. Their work is dedicated to the memory of Andrew Grene, a UN worker and one of the many thousands of people who died in the Haiti earthquake of 12 January 2010. They are a very unique charity in that100% of donations goes directly to our projects in Haiti.
The weather was on our side and evryone turned out to support this very worthy cause, ensuring that even after distaster have long been forgotten in th enews headlines work must continue to go on to help.
We raised an amazing £XXXX