National Finals - Jaguar Primary F1 Challenge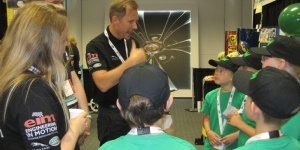 Warp Wheels team from Year 4 spent the day competing in the National Finals for the F1 Primary Challenge at the British Motor Museum in Warwickshire.
Danni, Elisa, Jessica, Austin and Alex from Year 4 were lucky enough to go to the National Finals yesterday at the JLR ( Jaguar Land Rover ) headquarters along with 32 other schools from across the country. It was a long but exciting day and the teams raced their cars, presented to a panel of judges and had an additional secret challenge to complete.
They also had time to look around the British Motor Museum which was amazing, the even saw the car from Back to The Future!
They had a fantastic time and the atmosphere was really friendly despite being a tough competiton. One team even travelled from Glasgow!
For more information, you can see videos and pictures of the compettion day on their Facebook page F1 In Schools UK.
Some of our pictures from the day are also on Year 4's blog page